One Coat, Three Ways and No Purchases Required
Now, I really like the cut and shape of this old coat of mine, pictured below, but it can look a bit boring. It's plainness was part of its appeal but its turned out to be its downfall. You might have one too, not this exact coat but one that rarely sees the light of day, a wardrobe wallflower that's constantly passed over while its more showy friends get the walks to the park, office or party.
You do? Well do you know that with a little thought and not a lot of effort that subs bench coat could become a star player? Don't believe me? Well, follow these three no sew suggestions and you'll successfully rework that outerwear and transform it into something more stylish, more fun and, most importantly, something unique to you.
Rework 1 - Add a Scarf
No brainer, right? Scarves are the ideal accessory to show some personality and add some colour. But instead of wearing the scarf under the coat and having it simply peeking out, try wearing it over the coat or under the collar, as seen here, and add a flourish like a bow or a simple knot. By making the time to style up your scarf, you're making a considered style statement and putting a little bit of imagination into your look rather than simply throwing on a scarf. Anyone can throw on a scarf, so don't be anyone, be you and add your own personal touch. For example, I often wear this coat with the collar turned up to allow a full 360 view of the scarf. It also means I can keep the rest of my outfit super simple – jeans, boots, bag and I'm good to go.
Rework 2 – Add or Swap a Belt
Again a super easy thing to do but so effective in offering bit more personality to your coat is to either add a belt or change the belt. Personally, I like to stick to a belt in the same colour as the coat, but a contrast colour can add serious impact for not a lot of effort. When I stick to the same colourway I like to add interest with texture, as seen here wth the woven belt, or with a contrasting finish, pairing, say, a wool coat with a patent belt or a satin coat with suede. I also prefer narrow belts as I feel quite constricted in a wide belt but maybe you don't, so go for it. Another tip is if the coat style allows, try wearing it unbuttoned with the belt tied rather than fastened around the waist. This also works well with longer length jackets and is pretty much a signature style of Emmanuelle Alt, editor-in-chief of French Vogue and a late 40s woman with incredible personal style.
Rework 3 – Add a Brooch or Button Pin
Brooches are pretty much most stylists go-to when it comes to quickly adding a bit of interest. They can be worn singularly or grouped but be careful on satin fabrics as the pin can leave its mark when the brooch is removed. Once on a shoot, I put brooches in all different coloured stones all over a collar and it looked amazing, the stones catching the light and the eyes attention brilliantly. It's maybe a bit much for daytime though but even one well-placed brooch can look good. I picked up the tassel brooch pictured here for pennies in the sale at H&M (always worth a browse) and it's featured on everything from coats to dresses to bags and hats. Here I could have used in on the collar but, again, I think using it to cover a button makes this a style statement rather than a quick gesture. You can also use a brooch to add some interest to your back view, especially if you want your exit to be as stylish as your arrival.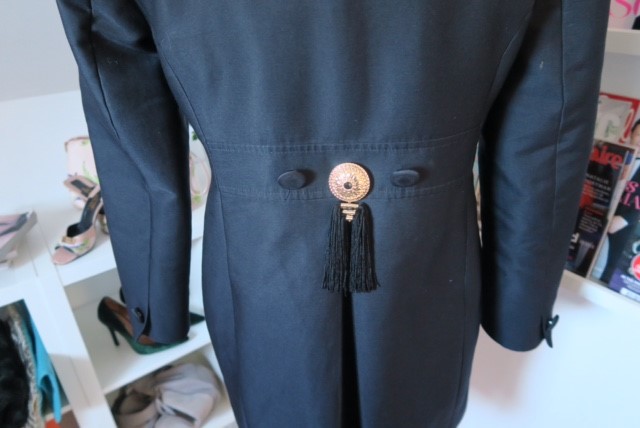 So there you have it, my three easy, no purchase, no cutting and no sewing required ways to rework a coat. Give them a try and have a bit of fun playing around with different accessories, and see how many different looks you can achieve.
I'd love to hear how you got on and your suggestions too, so don't be shy with commenting with your style solutions below.
Sincerely Yours,
Photography by Susie Cormack Bruce